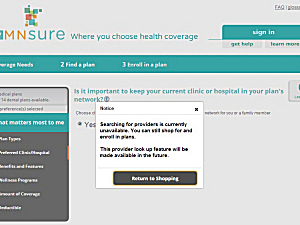 MNsure officials say that consumers shopping for health care have created more than 2,500 accounts. But frustration about enrollment glitches for some is spreading to the health insurance industry and social service providers.
"MNsure will be very helpful for people who don't have health insurance today," said Minnesota Human Services Commissioner Lucinda Jesson. "It will also be a real option for people who are buying insurance on the individual market, especially for people who have pre-existing conditions and may not have access to affordable insurance before."
The incident provides ammunition to critics who contend personal data collected by MNsure will not be safe. Uninsured Minnesotans will be using the website to purchase health insurance, and they'll have to provide information about themselves in the process.