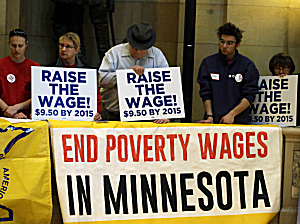 After several hours of contentious debate, the Minnesota House today passed a bill to make that the hourly wage by a vote of 71-60. The vote follows one by the Senate on Monday.
The bill expands access to affordable health care, expands family leave and provides reasonable accommodations for pregnant and nursing employees.
Minnesota is on the cusp of adopting one of the nation's highest minimum wages after the Senate voted Wednesday to gradually boost it to $9.50 per hour.